Expert eye health and vision care
Giles Eye Care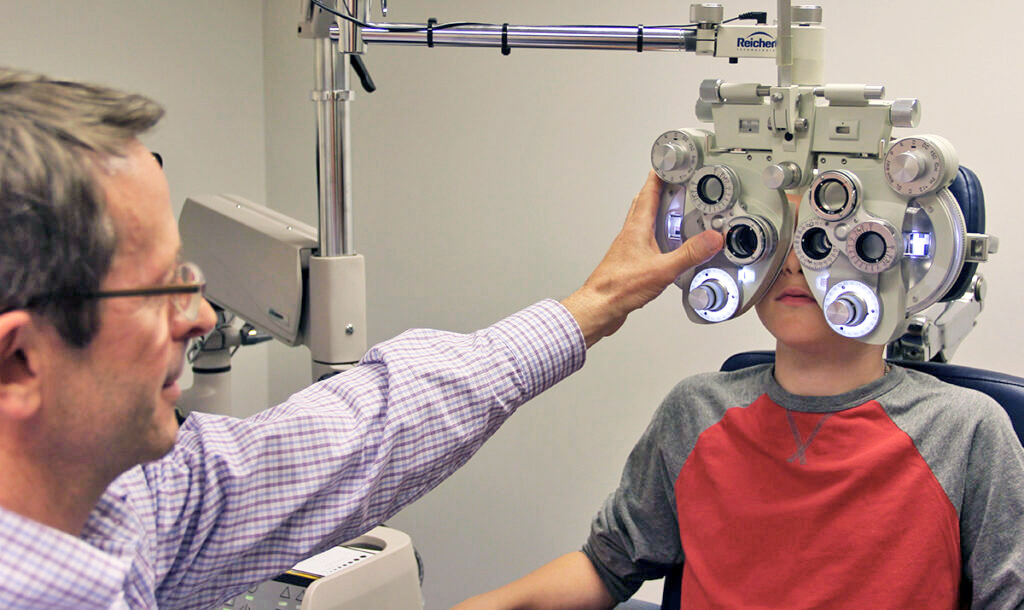 Expert Eye Health and Vision Care
Giles Eye Care
Age-Related Macular Degeneration
Cataracts Diagnosis & Co-management
Optical Coherence Tomography
Optical coherence tomography (OCT) is a non-invasive imaging technique that uses light waves to take high-resolution cross-sectional images of your retina.
Optomap
The Optomap® retinal exam is a fast, easy, and painless way to scan and image your retina for people of all ages.
Visual Field Testing
Visual field testing is an important part of regular eye care, especially for individuals who are at high risk of eye diseases and other issues.
Optical Coherence Tomography (OCT)
Eyewear at Giles Eye Care
We offer a wide selection of designer brand lenses and eyeglass frames to suit your style and budget. Our optician, Jim, will help guide you through the selection process and find the perfect pair for your needs.
We offer a variety of premium sunglasses from leading brands, including Bollé, Gucci, Kate Spade, Lucky Brand, and Nine West. Both non-prescription and prescription sunglasses are available.
At Giles Eye Care, we offer a range of contact lenses to suit your individual visual needs and lifestyle. 
service oriented
Why Patients Love Us
& Keep Returning
Excellent clinic: state of the art equipment, super friendly staff. You can tell Dr Giles really loves his profession. The whole experience of dealing with them is pleasnt and cheerful. Highly recommend!
Devon Tackels
December 7, 2021
My visit with Dr. Giles was nothing short of fantastic. The experience from start to finish was smooth — and the staff were friendly and helpful. Dr. Giles provided a solid annual examination and some excellent medical advice too. And because they have an eyeglass store in the office, I was able to place my order for new lenses & frames on the spot. A true one-stop shop!
Darcy Stillman
December 7, 2021
Everyone was super nice and explained what every test was for. The doctor took the time to show me what they look for in my eye health and pointed out aspects of interest in my own eye anatomy. The optometrist was really patient and searched for the perfect frames in response to all my whims. I highly recommend Giles eyecare. What a great team!
Paul Auclair
December 3, 2021
Extremely friendly and knowlegable Dr. and staff. Highly recommended.
Beth James
December 3, 2021
Best Eye Doctor in Maine! Maybe the Universe! Dr Giles offers state of the art preventative equipment to ensure heathy eyes and detect problem early! I recommend Giles to a friend and Dr. Giles caught a problem early, and now my friend is seeing clear and colors are more vibrant! Dr. Giles really cares and spends quality time getting to know his patients. The best quality in a Dr. The entire office feels like a team/family and is welcoming! Jim, the optic professional is amazing! I could hang with Jim all day! Awesome glasses at a great price and Jim can order glasses to fit your personality! The office will text with you if that is your preferred communication! Love it! Overall AMAZING team!
Carol Savasuk
March 24, 2021
Love Dr.Giles and staff. Very professional yet warm and welcoming! I've been a patient of his for years and constantly drop his name to others!
Giles Eye Care went above and beyond my expectations. Dr. Giles was informative and answered all my questions. Staff was knowledgeable and friendly. Would highly recommend !
Troy Moon
February 4, 2021
I've been seeing Dr. Giles for many years. My experience has always been great. He and his staff always answer my questions and are very professional. I love their eyeglass selection and fitting service.
Marissa Spiro
February 13, 2020
I took my six year old son to see Dr. Giles today. He was exceptionally patient. He explained every step to my very nervous little guy. I really appreciated his professional and calm demeanor.
Dave Santillo
December 18, 2019
Finally! I've tried at least 5 different eye care specialists in my 20+ years in the Greater Portland area. Other places I tried had hidden costs, different staff every time I visited, over-done waiting and show-rooms, and so on. I was looking for the right combination of professionalism, comfort, and cost, and at the recommendation of 2 friends, I tried Giles Eye Care. My first impression was of a clean and well organized office with a friendly professional staff - to go along with a very reasonable exam cost. Dr. Giles himself performed a thorough and unhurried exam, thoroughly explained results, and patiently answered all questions. He also took the time to go over questions I had when I picked up my glasses, even though I didn't have an appointment with him. Interestingly, for the first time, I didn't feel any pressure to purchase glasses at the same place I got the exam. I did get them there, though, and I'm glad I did. Their selection of frames is "just right", staff was prompt and efficient, and again very friendly. Overall, I can't see (no pun intended) why anyone would want to go anywhere else for their eyecare in the Portland area.